Gallery
During the Project some of our partners and colleagues were awarded for their exceptional work. Here are some of our awardees:
• 2016

IOP Publishing Reviewer Awards 2016: Nanotechnology. As one of Nanotechnology Outstanding Reviewers of 2016 was recognised Dr. Polina Kuzhir, Belarusian State University, Belarus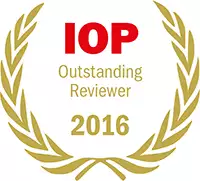 Elsevier Outstanding contribution to reviwering process:
• December 2017

Artem Plyuchsh (ER from INP BSU) was awarded with a President of Republic of Belarus Scholarship (2018) for developing new materials based on nanocarbon components interacting effectively with electromagnetic radiation in a wide frequency range.
• October 2017

Hristiana Velichkova (ESR and PhD student from IMech-BAS) won a competition (2017) for young researchers at the Bulgarian Academy of Sciences with the project: "Multifunctional graphene-polymer nanocomposites for 3D printing application".
• 2018

Professorship award of Dr. Egveni Ivanov at the Bulgarian Academy of Sciences, December 2018
Pictures
• 8th January 2019

Dr. Polina Kuzhir was awarded by the GRANT OF THE PRESIDENT OF THE REPUBLIC OF BELARUS IN SCIENCE, EDUCATION, HEALTH, CULTURE in 2019 for the developing of the concept of microwave and terahertz photonics based on carbon nano and microstructures, creating functional passive tunable microwave / THz icomponents of a new generation based on graphene, carbon nanotubes and nanocarbon composite materials using 3D printing (according to presidential decree 08/01/2019 #4rp.
• December 2019

Dr. Giovanni Spinelli was awarded Guest Editor of Special Issue "Advanced Nanocomposites for 3D Printing Applications"
• 2019

Dr. Polina Kuzhir
"Best of 10" for 10 years collaboration (2009-2019) with the Institute Jean Lamour, CNRS Université de Lorraine.
Link to the book (see page 23)
---